Steel tubes for pioneering technologies. Since 1919.
Since the very beginning, it has been our mission to make steel usable for the demanding applications and technologies. Everything started in 1919 and, already after a very short time, Wiederholt had established itself as a provider of electrically resistant press-welded and drawn precision steel tubes. Today, it is our aim to cold form steels with an ever greater degree of tensile strength so as to meet the requirements of our customers in terms of weight savings, for example, and to keep the precision steel tube competitive, and against other materials as well.
The coil-to-components principle
Turning steel into a high-end solution
The characteristic rolled steel strips stand side by side. The heavy coils are delivered directly to our factory in Holzwickede by selected raw material suppliers or service centres. This is where we start processing the products into the desired end products. Using modern welding and connected drawing machines, we form a split strip into a finished precision tube which we then cut to the desired length according to the customer and prepare it for shipping. This is the coil-to-components principle. Thanks to very special knowledge which we have honed extensively over the years, we realise the narrowest tolerances and exact mechanical values. This means: Clear process advantages for you as a customer.
Size-rolled precision steel tubes DIN EN 10305-3 (DIN 2394)
Cold-drawn precision steel tubes DIN EN 10305-2 (DIN 2393)
Cold-drawn cylinder tubes for hydraulics + pneumatics
Cold-drawn special profiles
Precise lengths and further processing
Individually advised and quickly supplied
Unique support & logistics concept
Strong services are our standard. From individual process development to extensive processing, right up to well thought-out logistics, we accommodate your requirements 100 %. Thanks to our streamlined process paths and close collaboration with our logistics partners, we enable a speedy delivery precisely according to your desired date. Our precision tubes are transported under the most stringent load securing specifications as a classic hexagonal bundle or in the customer's own containers, for example.
Project management: Individual advice from planning to delivery
Labelling: Complete trackability right back to the raw material batch
Packaging: From steel or plastic-strapped hexagonal bundles (long tubes) right up to individual packaging concepts according to the customer's requirement (e.g. precise lengths)
Logistics: Quick and secure delivery to your desired deployment location
Safety is our top priority
Occupational health and safety
Here at Wiederholt, the safety and health of our employees is our top priority. As a responsible employer, we focus on sustainable prevention. We guarantee a safe working environment with high certified standards, in particular with the internationally recognised Occupational health and safety management system ISO 45001. We also carry out regular risk assessments and use the information from these assessments to develop practical measures which we then implement immediately across all departments.
Sustainability as a principle
Environment management
At Wiederholt, we place a high value on the responsible handling of resources. All processes relating to production, from the selection of primary material right up to shipping the products, are subject to constant monitoring and are analysed and evaluated according to their environmental compatibility. The compliant application of the standards of the environment management system DIN EN ISO 14001:2015 is certified.
OUR PRINCIPLES
Environmental protection as a fixed component of the company culture
Responsible handling of resources
Minimising the burden on water, air and soil
Proactive environmental monitoring using key indicators
Consciousness as our motto
Energy management system
For the progressive improvement of our energy-related processes, we have introduced an energy management system according to DIN EN ISO 50001:2018. Using the systematic collection of data with regular analysis, we derive suitable measures which are required for reducing emissions and energy consumption. At Wiederholt, every employee is included in the management system, and ensures responsible conduct in terms of both energy and the environment.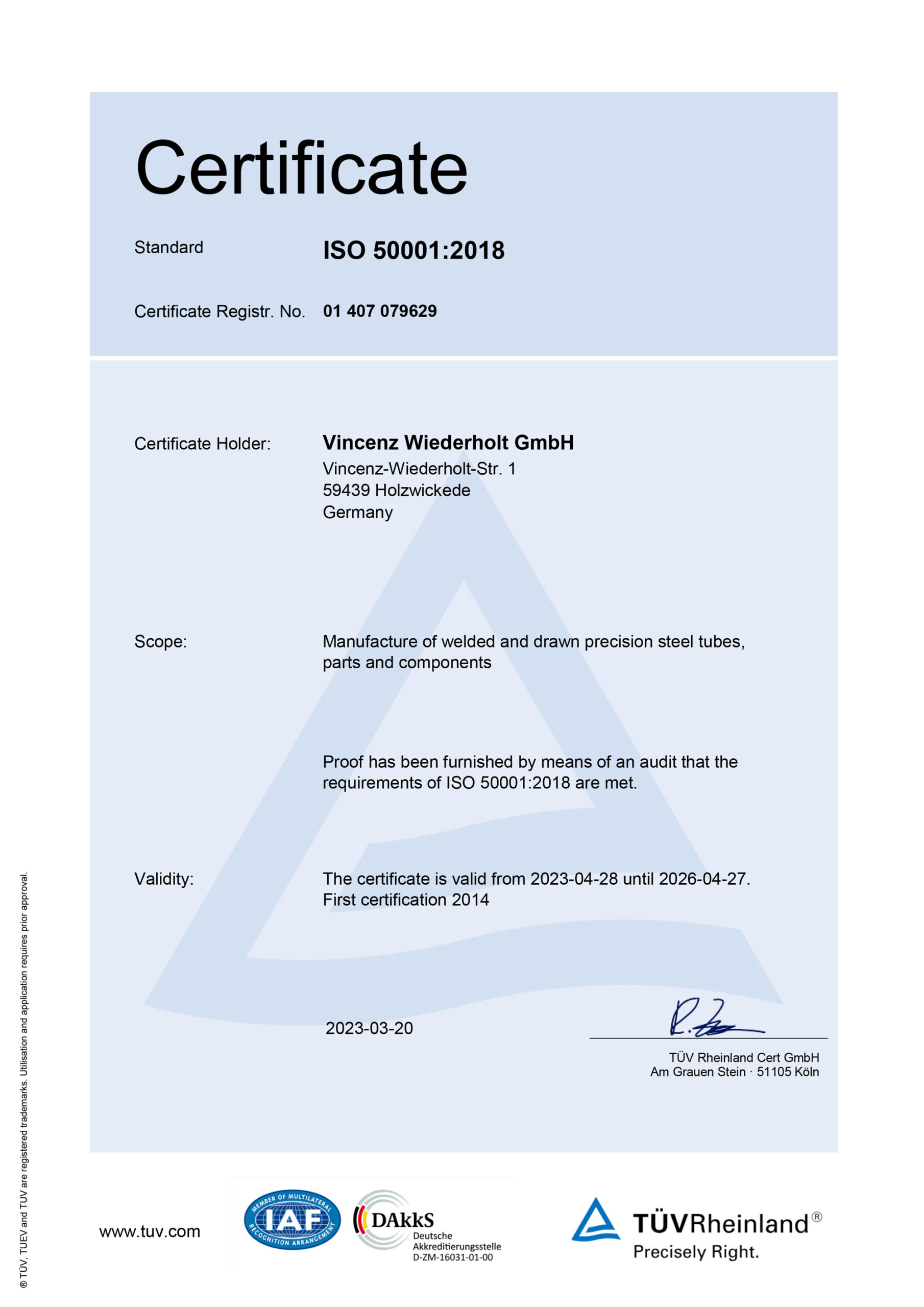 Test standard certificate ISO 50001:2018
Integrity as a commitment
Compliance
Our business ethics and compliance guidelines express the values with which we act on the market. We pay attention to human rights as fundamental values. We reject every kind of discrimination and place the greatest value on a respectful, polite and honest coexistence. Our customers' information is treated confidentially according to the strictest criteria. At the same time, personal and business data is protected to a high degree according to the applicable data protection regulations. We are doing our part to support fair competition and positive actions with our business partner, employees and society.